conference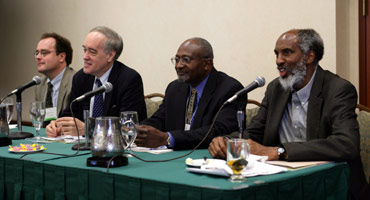 Conference Program
Click below to download a PDF of the Race & Regionalism program, the printed booklet distributed at the conference.
Download Program
Overview
Many thanks to everyone who participated in the proceedings of the Institute on Race & Poverty's Race & Regionalism Conference 2021. The conference was held in downtown Minneapolis May 6-7, 2021. About 175 people participated in the proceedings, with over 30 speakers from around the country. The panels included a rich mix of lawyers, academic theorists and grassroots activists, resulting in invigorating juxtapositions of content and lively discussions with the audience. The audience itself was a study in diversity; the audience included members of multi-racial, faith-based organizing groups from around the country, professors and students from local universities, lawyers, local government staff, and representatives of activist organizations working on civil rights, smart growth, fair housing, transportation equity, policy reform and other components of the regional equity movement.
Topics covered at the conference included the roots of segregation and its consequences, which we continue to live with today; the pull of the suburbs and the trend of resegregation in some of those communities; the effects of affordable housing production and land use policies on racial stratification in metropolitan regions; the potential for building successful multiracial coalitions; the extent to which our public schools are segregated and the varied successes of funding and busing strategies to integrate the schools economically and racially; the role of regional governance in equity reforms; and reflections on where we need to go from here. The sessions of the conference are outlined below. Follow the session links to listen to audio files of the speaker presentations and question and answer sessions. PowerPoint presentations made by speakers, handouts distributed at the conference and links to speakers' web sites are also available on each of the session pages.
Conference Program
Friday, May 6, 2021
Session I: Segregation & Its Consequences
john powell, Kirwan Institute
Gary Orfield, Civil Rights Project, Harvard University
Robert Bullard, Clark Atlanta University
Session II: Race & The Suburbs: The Forces of Resegregation
Walter Mondale, Dorsey & Whitney
Myron Orfield, Institute on Race & Poverty
Harold Adams, Stable Integration Governing Board
Laura Siena, The Integration Project
Luncheon and Speech by Sheryll Cashin. Cashin discussed the themes of her new book, "The Failures of Integration: How Race and Class are Undermining the American Dream."
Session III: Housing & Land Use Policy
john powell, Kirwan Institute
Phil Tegeler, Poverty and Race Research Action Council
Kevin Walsh, Fair Share Housing Center
Moderator: Josie Johnson, Former University of Minnesota Regent
Session IV: Politics of Interracial Strategies: Opportunities and Tensions in Cities, Suburbs and Rural Places
Maya Wiley, Center for Social Inclusion
Guy-Uriel Charles, University of Minnesota Law School
Myron Orfield, Institute on Race & Poverty
Saturday, May 7, 2021
Ethnography of Segregation
Elijah Anderson, University of Pennsylvania
Session V: Desegregating Schools using Funding Remedies
James Ryan, University of Virginia Law School
Heaster Wheeler, Detroit NAACP
Daria Roithmayr, University of Illinois College of Law
Session VI: Evaluating Tools for Achieving Integration through Busing, Housing & Regional Planning
Roland Anglin, New Jersey Public Policy Research Institute
Gary Orfield, Civil Rights Project, Harvard University
Dan Shulman, Gray Plant Mooty
Angela James, Empower Hampton Roads
Luncheon and Speech by Richard T. Ford. Rip Rapson of the McKnight Foundation provided remarks about the role of philanthropy in regional equity; Richard T. Ford discussed regional governance models.
Session VII: Regional Equity: Governance, Housing, Taxes & Transportation
David Miller, University of Pittsburgh
Audrey McFarlane, University of Baltimore Law School
Richard Briffault, Columbia Law School
Al Martin, MOSES
Session VIII: Racially Inclusive Regional Reforms: Today's Civil Rights Mandate
john powell, Kirwan Institute
Carl Anthony, Ford Foundation
Rev. Kevin Turman, MOSES
Myron Orfield, Institute on Race & Poverty
Sponsorship
The Institute on Race & Poverty and the Kirwan Institute on Race & Ethnicity co-sponsored the two-day event. The Race & Regionalism Conference was made possible by a grant from the Ford Foundation and support from the University of Minnesota Law School.