About Us
The Institute on Race & Poverty (IRP) investigates the ways that policies and practices disproportionately affect people of color and the disadvantaged. A core purpose for IRP's work is to ensure that people have access to opportunity. Another is to help the places where people live develop in ways that both promote access to opportunity and help maintain regional stability. The Institute is directed by Myron Orfield, associate professor of law at the University of Minnesota Law School.
Employment opportunities at IRP are posted on the News & Updates page.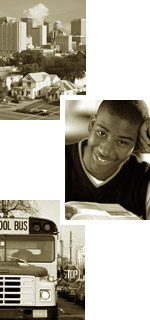 History
The Institute on Race & Poverty (IRP) was founded by john a. powell in 1993 at the University of Minnesota Law School (pictured at right). For over a decade, the Institute has focused its efforts on creating greater understanding of racialized poverty and changing policies and practices that affect the well-being of low-income communities of color. This is not a goal that can be accomplished independently. Thus the Institute collaborates with many advocacy groups and community organizations, national, state and local government officials, as well as faith-based, philanthropic, and business leaders, and media representatives.
In the past year, IRP has undergone a transition that offers the opportunity to build on its strong national reputation in the area of race and poverty and its solid academic and theory-based foundation with a renewed focus on regional social, fiscal and growth dynamics and with new technical capacities. In 2002, IRP's highly regarded founder, john powell, left to direct the Kirwan Institute on Race & Ethnicity at Ohio State University. Myron Orfield, a nationally recognized expert on race, poverty, urban finance, affordable housing, and regional reform was selected to direct IRP and serve as an associate professor of law.